Mackie SR18S 18-inch 1600-watt Professional Powered Subwoofer
R21,495.00 Incl.
Description
1600W Powered Subwoofer with 18-inch Woofer, Custom Voicing Presets, System Protection, Variable Crossover, Polarity Invert, Stereo/Mono Summing, Variable Level, 2 Full-range/2 Highpassed Outputs, and Pole Mount.
The Mackie SR18S powered subwoofer offers premium sound for working musicians, DJs, and venues alike. Its 1600-watt Class D amplifier packs reliable, consistent performance in a lightweight package, and its custom high-efficiency transducer ensures top-notch sound. A dedicated processing module guards against system overloads with the utmost in transparency. This state-of-the-art powered sub includes application-specific Custom Voicing presets for simplified setup; the SR18S also includes a variable crossover, easy system optimization features, versatile output options, and an integrated pole cup for your main speaker.
A flexible but easy-to-use subwoofer
If you play different rooms of different sizes, you'll love the flexibility of the SR18S. And no matter what your system looks like on any given night, the SR18S is easy to set up. The perfect complement to your SRT Series, SRM | V-Class Series, or any other PA loudspeakers, SR18S not only reinforces your low end, but also allows for a massive increase in system efficiency and output. Custom Voicing presets and a variable crossover makes it easy to fit the SR18S into the mix. You also get a polarity invert switch, stereo and mono summing for single- or dual-subwoofer deployment, and a variable level control that ranges from -6dBU to +6dBU. What's more, because it has dual full-range outputs in addition to dual highpassed outputs, you can integrate the SR18S into virtually any PA system.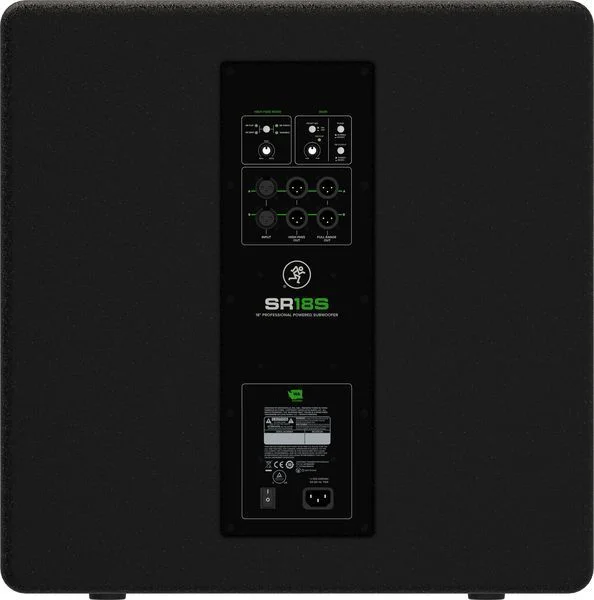 Transparent system protection guards against excessive levels
As the seasoned live sound experts here at Sweetwater will tell you, unpredictable level spikes are a fact of life. The Mackie SR18S takes this into account, providing you with a dedicated processing module that monitors your amplifier in real time to guard against excessive levels. It's extremely transparent — even under heavy limiting. What's more, input limiting tames extra-hot sources before they cause issues. You also get Power Factor Correction for rock-solid operation in venues with unstable power.
Mackie SR18S Professional Powered Subwoofer Features:
1600W Class D amplifier packs reliable, consistent performance in a lightweight package
Custom Voicing presets tailor the PA to your application
Robust woofer delivers smooth sound at high SPLs
Dedicated processing module guards against system overloads with the utmost transparency
Variable crossover enables you to fit into any mix
Polarity invert switch for correcting phase problems
Stereo and mono summing for single- or dual-subwoofer deployment
Variable level control that ranges from -6dBU to +6dBU
2 full-range outputs and 2 highpassed outputs make system integration easy
Pole mount allows you to attach a speaker pole for a main speaker